Our Photo Gallery - The Upstate South Carolina Lakes
National Geographic says that our area is home to the 9th of, "
50 of the World's Last Great Places
."
"Experience Pristine Locations ~ Discover Unforgettable Landscapes ~ Explore Unspoiled Environments"
National Geographic best described on the cover of their special edition why we have CONSTANT beautiful clean, clear water in Lake Jocassee & Lake Keowee. Bottom Line: our waters flow through, "Pristine Locations & Unspoiled Environments." We have three beautiful lakes in our area. Many of these are personal photos from our outings on Lake Keowee, Lake Jocassee and Lake Hartwell. Many streams and major rivers from the Blue Ridge Mountains in North Carolina fill these lakes with clear, cool mountain water. Thics is a chain of lakes running north to south. Just northwest of Lake Jocassee is Bad Creek Reservoir. Bad Creek has enough water to fill the entire 7,800 acre Lake Jocassee. The Whitewater River, one of the many rivers that fills Lake Jocassee, boasts the tallest waterfall east of the Mississippi — Whitewater Falls — which is just a short drive from Lake Keowee. The Keowee River carries these mountain waters past the Clemson football stadium to fill the 56,000 acre Lake Hartwell. After that, the waters flow through several more lakes down the Savannah River on their way to Savannah, Georgia. Visit our Lakefront Communities gallery.
Doug Patterson
864.238.3176
Doug Patterson was chosen as the Lake Expert to narrate with Sandra Jones, Executive Director of the Oconee County Chamber of Commerce
Featured Listing: Rare Views
This 5 bedroom, 3½ bath lakefront home has rare, expansive, unobstructed Keowee island views from almost every room! Stone steps lead to your own private beach. The finished walk-out basement, back porch awning and pier deck make this a great home for entertaining friends. The Lighthouse Restuarant is a 5 minute boat ride away! MLS 20168958
An article in Game & Fish magazine states our Whitewater River, Chattooga River, Eastatoee River and Lake Jocassee were voted 4 of the FIVE BEST TROUT WATERS in South Carolina! "Jocassee lays claim to the STATE-record rainbow trout and brown trout, which weighed in at 11 pounds, 5 ounces and 19 pounds, 9.5 ounces, respectively. Lake Jocassee is managed as a trophy trout fishery."
Lake Keowee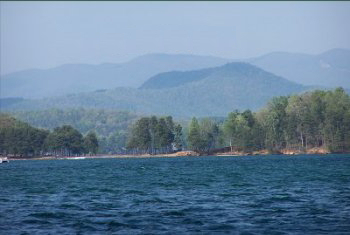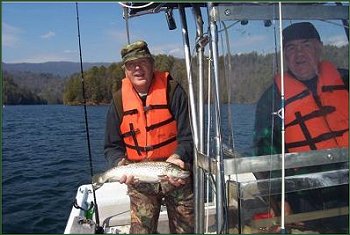 Lake Keowee is partially in the mountains, with the southern end in the foothills (Google Map). Some waterfront lots are available with mountain views, with many other waterfront lots available. There is plenty of open, deep water for boating. At the south end of the lake is the Seneca Marina. Pull your boat into the star-shaped dock, refuel, and enjoy lunch at the outdoor restaurant overlooking the lake. Visit our Lakefront Communities gallery.
At a full pool elevation of 800 feet, Lake Keowee is 29 miles long, has 18,500 acres of water and 300 miles or shoreline. Depths average 54 feet and go as deep as 297 feet. This lake supplies water for the cities of Greenville and Seneca. Even in times of drought, Keowee residents are blessed with great water levels (except for annual spillway service). Lake Keowee is not highly sensitive to drought; Duke Power created the lake for power generation, so the water levels remain deep. Lake Jocassee (to the north) and the Bad Creek reservoir (north of Jocassee) supply water for this purpose. There are several parks and boat access areas.
There has been a lot of misunderstanding about Duke's relicensing proposal for managing Keowee and Jocassee. There have been rumors that Duke wants to, "lower the lake 10 feet." This is not true. Please see this document from Duke Energy called, "Focus on Keowee Lake Levels." This plan deals with conditions of extreme drought while protecting the electric supply during those times. The operating range for Keowee in normal conditions under the new plan would actually be higher than is allowed now. The Shoreline Managament Guidelines have also changed. In addition, there are minimal vegetative buffer requirements in Oconee County on and near Lake Keowee.



Cliffs Water Taxi (photo used by
permission of The Cliffs Communities)




Our boat at Keowee Marina

The Lake Keowee Marina Store

View from the Tiki Hut deck over the lake

One of many fine homes on Lake Keowee

Houseboat and boat house

Families at a Lake Keowee waterfall

Boating on Lake Keowee

Many Keowee homes have covered docks.

A 4 bedroom home with a concrete dock.

Carol on patrol with the Coast Guard Auxiliary

Doug on patrol with the Coast Guard Auxiliary
Lake Jocassee
Jocassee is a beautiful lake just north of Keowee which is surrounded mostly by protected forest land and only a few homes. Lake Jocassee has what many consider to be the most spectacular views of any lake in the area. The Whitewater, Toxaway, and Horsepasture Rivers all empty into Jocassee. There are several impressive waterfalls - 27 in total. Most of the lake's 75 miles of shoreline is surrounded by protected forest areas, a state park, and only two small, secluded residential communities. In our humble opinion this is the ultimate lakefront experience in the South Carolina Appalachian mountains. Lake Jocassee is very private and unspoiled. Created by Duke Power for power generation, Jocassee is over 7,500 acres of clear, cool water from protected Appalachian streams and rivers. It is a paradise for swimmers, divers, boaters, and fisherman. Full pool is 1,100 feet above sea level with depths up to 350 feet. Read more about Lake Jocassee history, check current lake levels, and see a Jocassee map including trail access points.
| | |
| --- | --- |
| Go around this rock to the right and see… | …this! Keep your boathook handy. |
| A covered dock at a Fisher Knob home | A fine home in Fisher Knob |
| Kayakers getting up close to the falls. | Another of many waterfalls on Jocassee. |
| A "smoky" day in the mountains. | The last falls on the Whitewater River. |
| Gretchen getting her sea legs. | Now she's taking over! |
| Footbridge over the Toxaway River. | The loons from Maine spend the winter here. |
| Our mini-yacht. | Yes, we have seagulls. |
| Another wonderful lake waterfall. | Hiking bridge over the Horsepasture River in NC. |
| | |
Lake Hartwell
Just south of Lake Keowee is Lake Hartwell. Completed is 1963 for hydropower generation, Hartwell is one of the largest public recreation lakes in the southeast. Hartwell is one of many lakes in South Carolina and Georgia managed by the U. S. Army Corps of Engineers. At 56,000 acres with a maximum depth of 176 feet and a mean depth of 45 feet (water levels), Hartwell is well known for bass fishing and recreational boating. It extends 49 miles up the Tugaloo River and 45 miles up the Seneca River and has 962 miles of shoreline. If you are interested in a lakefront home on Hartwell, be sure that your dock is in a deep enough cove that it will remain in water when the levels drop.
| | |
| --- | --- |
| Mountain views from Clemson | Watch the Tigers play from the water |
| Hartwell is stocked with Saltwater Striped Bass | My fish is bigger than my sister's! |
| Waterfront home with dock | Portman Marina |
| Coast Guard Auxiliary Operations Center | Portman Marina Sailboat Dock |
| A floating home on Hartwell | The White House (For Sale) |
| Lakefront Condos | Lakefront Condos Close-up |